News & Announcements
---
HOLIDAY CLOSURE
There will be no classes held on Monday, February 15th in observance of President's Day. Playspace will be open 9-10:30 AM, 12-1:30 PM, & 2:30-4 PM.
---
Camp Kidville is back!
Sign up now for early bird specials!
Purchase any 4 weeks or more of camp and receive 20% OFF.
OFFER EXPIRES 2/29
---
February Winter Camp
FEBRUARY WINTER CAMP for 2-6 years
Themed arts & crafts, music with a live musician, yoga, enrichment, and gym play!
9-12 PM
3 day option: MWF $180
5 day option: M-F $300
Extend the day! 12-2 PM
$90 for 3 days
$150 for 5 days
*must enroll by 2/12*
20% OFF SIBLINGS!!!!!
---
Our Team
---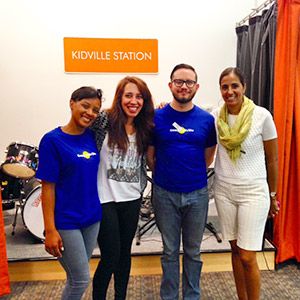 We are all proud to be a part of the Kidville Riverdale team! We enjoy playing, singing, and exploring new ideas and stimulating our children's curiosity. From left to right: Amber (teacher), Cavanaugh (birthday party coordinator/ front desk manager), Vincent (teacher/ member service specialist), Adi (owner/ mayor).
---
From left to right: Alex Jones, Adam, Delaney, Mark, & Ariena (all teachers)